from €60
Beginner Surf Lesson Algarve
Learn how to surf and enjoy nature while having fun in the water. In this surf lesson, you will learn how to surf a broken wave.
Algarve, Portugal
beginner
group or private lesson
meet at beach
1 x 1,5 hours
Mon-Sun, 10h & 15h
1-12 people
4:1 student:teacher
all gear included
pick-up (optional)
kids lessons available
Book Now
LEARN HOW TO SURF!
Learn to surf or improve your skills by joining our high quality group or private lessons with certified and passionate surf instructors (surf life-guards). Lessons are approx. 1,5-2 hrs and include all material needed (surfboard / softboard, leash, wetsuit), surf theory, safety instructions, warm up and lots of fun in the water. Due to our student – teacher ratio of 4:1 everyone in group lessons will get great attention and individual coaching in and outside the water. You will meet the best wave conditions suitable for beginners, because we teach at different beaches. Beach transfer can be organized (optional)
WHAT YOU WILL LEARN
Beginner Surf classes are for those who want to learn how to surf and improve their knowledge and surfing skills in the white water and first small green waves, dependinding on individual skills and wave conditions.
  safety rules and surf etiquette
  Getting to know the equipment
  Weather and wave conditions 
   Take off techniques / Pop-up
   riding (broken) waves standing
Learn how to Surf
Book your surfing group lesson now!
from 60€

Learning to surf in a group of like-minded people means also connecting and sharing the fun!
Intermediate group sizes vary due to demand but, might be around 12. For safety reasons and in order to give sufficient attention to each participant, we teach with a student-instructor ratio of max. 3:1, so everyone is always looked after and gets instant feedback. Kids will enjoy special attention and groups might be split into different levels.
from 150€

You want maximum attention, focus, fun and learning success?
Our 1:1 private lessons will assure you will get all of this by being able to tailor the lesson even more to your individual needs, skills and availability.
  110% attention, focus and fun
  tailored to your skills and availability
  maximum learning effect
Check out our package deals and enjoy great discounts!
GROUP SURF LESSONS
3 group lessons
3 day surf course
180€
Loooong weekend vacation? Taking a 3 lessons on 3 days, will give you a good insight in the world of surfing and you will experience the first steps of success in surfing small unbroken waves and learn the most important theory (safety rules, getting to know your gear).
BOOK NOW!
5 group lessons
5 day surf course
275€
Enjoying 5 lessons on 5 days, standing up and surfing small waves is almost guaranteed! On top you will not only learn more about surfing gear, how to "read" the surf spot and how waves develop, but also more safety rules and surfers etiquette preparing you for the lineup.
BOOK NOW!
6 group lessons
3 day surf course
330€
You are on a long weekend vacation and want to do a full course or just surf and learn as much as possible in 3 days? By doing 2 lessons per day (morning and afternoon), you will have double the fun and will probably ride (your first) green waves.
BOOK NOW!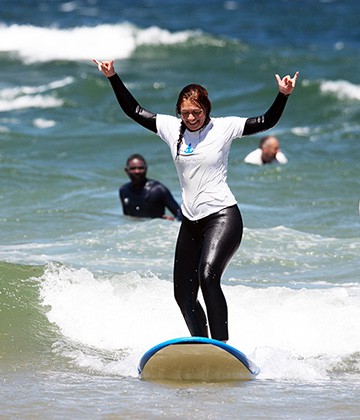 10 group lessons
5 day surf course
550€
You want to surf and learn as much as possible in 5 days? One morning and one afternoon lesson, will give you maximum time to learn and exercise, until you might surf small green waves and even try a hardboard. Gain in physical fitness and lots of fun included!
BOOK NOW!
3 private lessons
3 days surf course
450€
You are around for a long weekend / 3 days and want maximum attention, learning success and a flexible schedule? 3 private lessons will assure you will get the most out of these 3 days including lots of fun surfing local beaches!
BOOK NOW!
5 private lessons
5 day surf course
700€
You want to have the maximum learning success in 5 lessons on 5 days, then this package is for you! This individually tailored surf course will give you a profound insight on surfers knowledge and almost guaranteed, you will be surfing small green waves.
BOOK NOW!
3 Surf Lessons (on 3 days)
€180
5 Surf Lessons (on 5 days)
€275
6 Surf Lessons (on 3 days)
€330
10 Surf Lessons (on 5 days)
€550
3 Surf Lessons (on 3 days)
€450
5 surf lessons (on 5 days)
€700
MAKE IT A ONE WEEK YOGA & SURF EXPERIENCE!
Check our Karma Surf Retreats in Lisbon area and Algarve, luxurious accommodation with stunning sea views, pool and lots of pampering amenities. Stay for an entire week and enjoy a full 5-day surf course (all levels), daily yoga classes and  yummy healthy food presented by our in-house chefs. Other guided activities like rock climbing, hiking, mountain biking and stand up paddle boarding are available as well.
Surf & Yoga
from €899
7 days accommodation
10x Yoga classes (1h)
5x surf classes (1,5h)
organic breakfast
vegetarian lunch
welcome dinner
seafood lunch
water, milk, coffee, tea
free fruit
free wifi
If you want to do surfing and yoga in combination with nice people, healthy and good food, comfortable accommodation, culture and relaxing in a beautiful environment – right here is the right place to spend your yoga & surf holidays!
Book now!
Surf Retreat
Karma Surf Retreat - Algarve
Comfortable villa in golf resort with pool and 5 double rooms, living and dining room, fireplace, fully equipped kitchen, internet (wifi), big terrace and chill out areas with hammocks in the nice mediterranean garden. More Info
Budens, Algarve, Portugal
SURF & YOGA RETREAT
Get the real deal and book 1 week surf course with 2x yoga daily, good food and comfy accommodation!