OUR MOST EPIC MOMENTS
Check out some great waves our team members scored.
We, that's two schoolmates from Berlin, started in running Surf & Yoga Retreats (Karma Surf Retreat) in 2012. As passionate surfers that really like to share what we love, we acquired local and international teaching licenses, started our own surf school in 2015 and started to provide surfing lessons with our local partners for our Yoga & Surf Retreat at Algarve and Lisbon area.
At Karma Surf School we follow a holistic concept of QUALITY, SKILLS, DETAILS and PASSION for what you LOVE doing most - TEACH SURFING.
Last but not least, we just love to put smiles on peoples faces.
Our fully legally and by FPS acknowledged surf school already successfully operates for years making clients happy.
Being a mobile surf school we hold licences to teach surfing at various beaches along the south and west coast of Cascais (Lisbon area) and south-west Algarve around Sagres.
All surf instructors are passionate about surfing and experienced in teaching how to surf. They are fully licensed (FPS, ISA, ASI), including beach life-saver certificate.
They have profound knowledge of the local area and will only give beginners lessons in suitable surf conditions - like waist deep water and small and easy broken waves (whitewater) perfect for progressing and having fun enjoying the sun, beach and waves.
WHY LEARN TO SURF WITH US?
FOUNDER & BOOKINGS
Sabine
Sabine takes care of the organization and is handling the bookings. Living in the Algarve for almost 20 years and married to a surfer, she knows her way around and is passionate and happy to help you finding the perfect surf and suitable surf lesson for your abilities.
Patience
Swimming
Organizing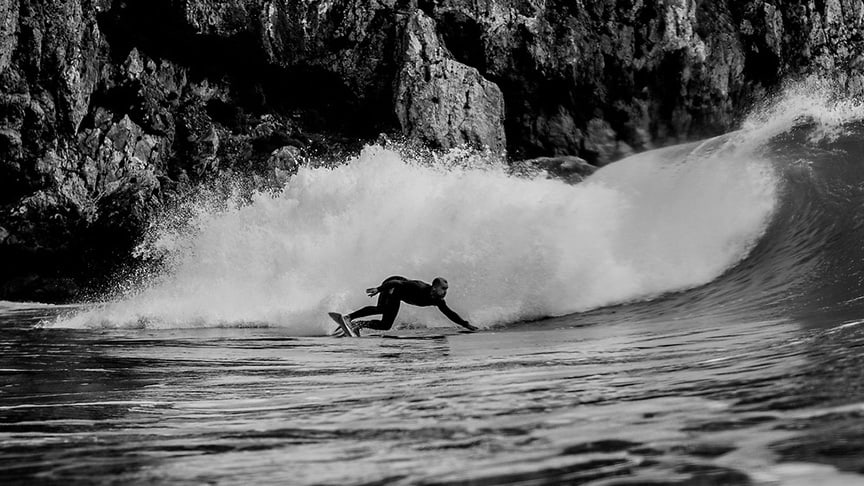 FOUNDER & SURF GUIDE
Jamie
With almost 20 years' experience surfing here in the Western Algarve, Jamie knows all the possibilities to maximise your surfing experience with us, luckily with this Western Algarve peninsular that we have here, almost always you can (if you know where to look) find great waves. Local Knowledge is everything…….see ya out there!
Headcoach - Algarve
Roland
Roland spent his holiday times chasing waves around the world, from Cape Verdes to Indonesia and to the Basque Country. These experiences made him a profound surfer, so he combined passion with profession and moved to Portugal, where he could build up his skills and develop new abilities as a surf instructor while transmitting his passion for surfing to our guests. Always with lots of patience and a smile on his face.
WANNA LEARN TO SURF AT ALGARVE?
Every surf instructor is fully qualified and eager to teach you surfing.
Head Coach - Lisbon Area
Joao Conde
Joao teaches lessons for beginners, intermediate and advanced surfers. As a FPS Level 2 instructor, he is the headcoach running the surf school. He grew up at this stretch of coastline but did not leave a chance to explore surfing spots of all Portugal as well as worldwide, make friends around the globe.
Patience
Swimming
Teaching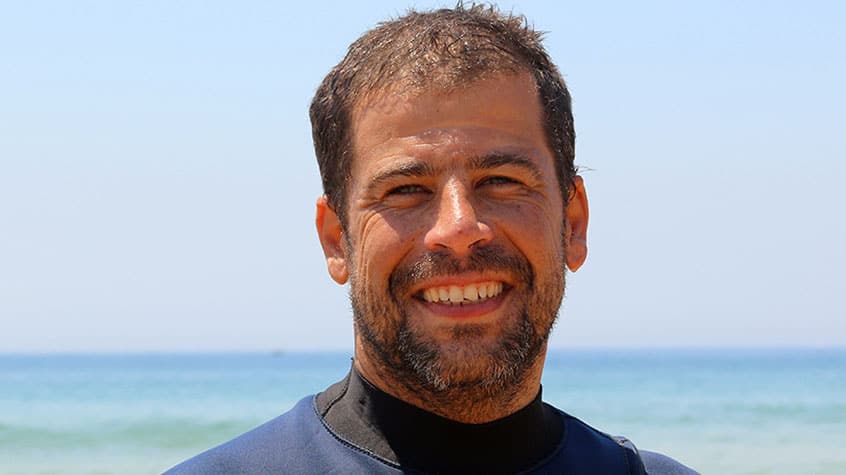 Surf Coach - Lisbon Area
André
Andre grew up in Lisbon/ Cascais and having turned surfing into his life philosophy he just loves to teach surfing lessons for beginners, holding a FPS and beach life safer license. His greatest motivation are the success and the smiles of his students manifesting in true happiness. And of course sharing the joy of being one with the ocean.
Patience
Swimming
Teaching
Surf Coach - Lisbon Area
Umberto
Huma has a big passion for nature and the ocean since surfing entered his life when he was 10 years old. Surfing as a lifestyle became his passion and he chose also to share and teach as a certified ASI surf instructor all over the world. He will do his best to teach you in the most fun and easy way, while always keeping safety a priority!
Patience
Swimming
Teaching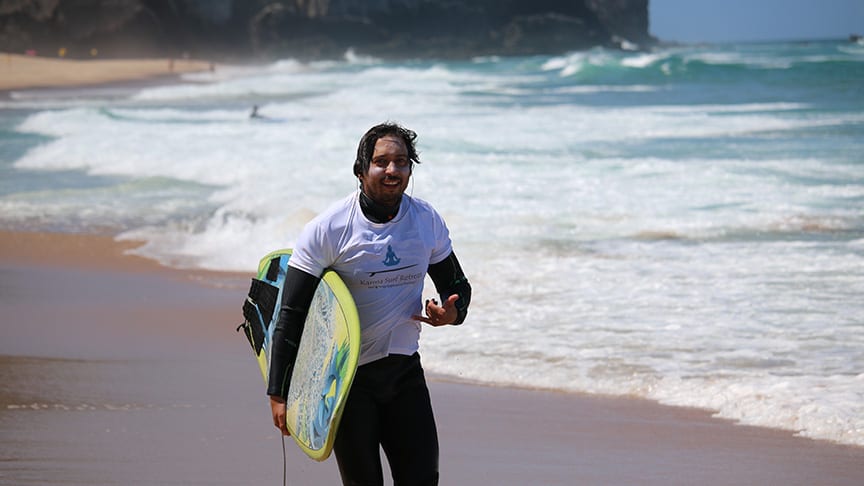 Surf Coach - Lisbon area
Miguel
Miguel is a Guide and teacher at heart. While his real passion is Mountain Biking, he enjoys waves just as much. As a licensed FPS surf instructor with life saver certificate he is one of the best to teach you surfing and show you the beauty of Cascais coastline.
Surfing
Teaching
Hospitality
WANNA LEARN TO SURF IN LISBON AREA?
Every surf instructor is fully qualified and eager to have a session with you.
FOUNDER & SURF GUIDE
Timo
Timo teaches lessons for beginners, intermediate and advanced surfers. He spent most of his live at the Portuguese Coast knowing every stretch of it. He is happy to show you his favourite surf spots around Lisbon.
Patience
Swimming
Teaching
FOUNDER & SURF GUIDE
Jens
Jens discovered surfing only with 30 years of age but is passionate about it ever since. He loves teaching, is ISA and FPS certified and an experienced surf guide having surfed the area for over 10 years by now. Overall he is patient, fun to be with and capable showing you some nice local places to hang out, relax or have a delicious meal.
Surfing
Teaching
HOSPITALITY